Coming Soon: Sensory Bags for Kids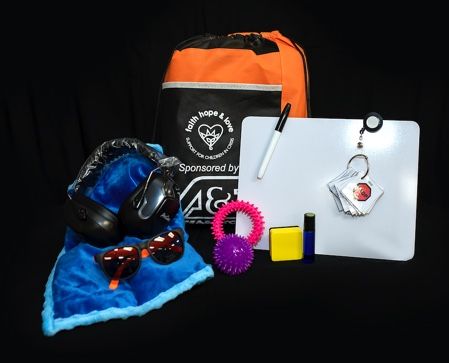 Starting on December 1st, 2020, Faith Hope & Love will begin offering a new program called Sensory Bags for Kids. Through this program we will provide a variety of items to help fill the missing link in the tools needed to assist children in crisis.
It is our understanding that only a couple organizations provide this option in Wisconsin, so it is not readily accessible when needed. After researching similar programs in other states, as well input from the Wisconsin Police Chief's Association, we have created a prototype Sensory Bag which contains the essential tools for first responders and case workers to effectively interact with autistic and trauma related children. These items include tools for calming, alerting, organizing and grounding.
Angeline Healy Markiewicz, Intake Coordinator at one of our partnering agencies, Children's Hospital of Wisconsin, recently said, "Sensory bags benefit the children by creating a distraction, easing anxiety, and building rapport."
This program supports all four key facets of Faith Hope & Love's mission and is planned to be available for distribution to Faith Hope and Love's Outreach Network on December 1, 2020.