Sensory Bags For Kids
NEW THIS YEAR…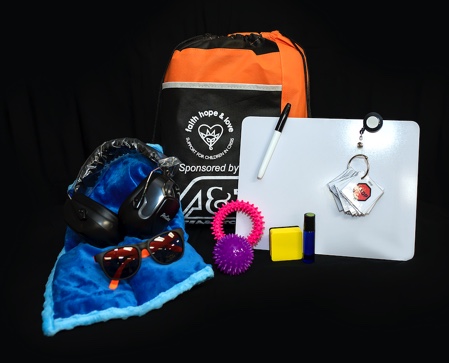 Why should Faith Hope & Love develop Sensory Bags?
The idea of a Faith Hope & Love sponsored sensory bag was first proposed to us by former Racine County Supervisor Monte Osterman. His daughter, a social worker, feels strongly that a sensory bag, is a critical missing link in the tools needed to assist children in crisis.
Osterman thought Faith Hope & Love was the best match for creating this program, and encouraged us to leverage our extensive Community Outreach Network to develop, test and distribute our specialized sensory bags.
It is our understanding that in the state of Wisconsin, only the Racine Zoo and the Fiserv Forum in Milwaukee offer sensory bags for children with autism. As a result, this critical tool is not widely available to first responders and case workers.

What will be in the Sensory Bag?
After researching similar programs in other states, as well input from the Wisconsin Police Chief's Association, we have created a prototype Sensory Bag which contains the essential tools for first responders and case workers to effectively interact with autistic and trauma related children:
Calming Tools:

Noise canceling headset
Weighted lap blanket
Sunglasses
Safety lollipops
Essential oil roller balls (provides strong sensory input that can help to break up a dissociative episode, trouble with flashbacks or breaks in reality orientation)

Alerting Tools

Koosh Ball used to toss back and forth in a rhythmic pattern which can be engaging and calming

Organizing Tools

Nonverbal communication cards
Dry erase board with markers.

Grounding Tools

Stress ball
Squiggle or worm ball, tangle
Smooth stone
Rubber band bracelet
What is in it for the kids?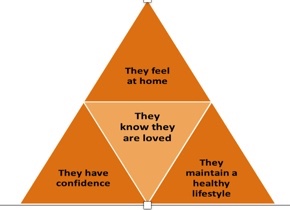 Angeline Healy Markiewicz, Intake Coordinator at one of our partnering agencies, Children's Hospital of Wisconsin, recently said, "Sensory bags benefit the children by creating a distraction, easing anxiety, and building rapport."
This program supports all four key facets of Faith Hope & Love's mission and is planned to be available for distribution to Faith Hope and Love's Outreach Network December 1, 2020.