Duffels For Kids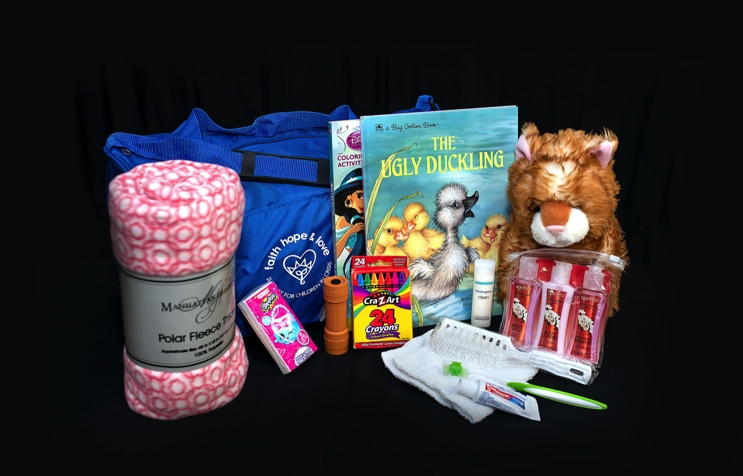 In 2013 we learned children entering the foster care system were often pulled from sometimes dangerous situations with only 5 minutes to gather their things and they were given a black trash bag to collect their belongings. Our hearts broke over this news and we decided to help by supplying a brand new duffel bag with personal care and comfort items.
Since we started in May of 2013, we have given away over 6,500 bags to different agencies. We work with many organizations that regularly deal with children in crisis; including: first responders, domestic abuse shelters, homeless shelters, local schools, hospitals, and foster care programs. As of 2022, Duffels for Kids is in all 72 counties in the state of Wisconsin.
The contents of each bag are age-specific and go to children from newborn to seventeen years of age. 
Duffels For Kids include:
Duffel bag
Fleece blanket
Stuffed animal
Storybook
Flashlight
Hygiene items:  toothpaste, toothbrush, hair brush, shampoo/conditioner and lotion (ages 3-17) deodorant (ages 10-17), baby wipes, powder, shampoo, wash, and lotion (ages 0-2)
To order Duffels for Kids bags
*Schools
*First Responders
*Foster Care
* Shelters
*Hospitals
Please click this link
Our Hope for The Children When They Receive One of Our Bags...
They Know They are Loved
It is important that the children who receive our bags feel comforted. We believe it is important that they receive brand new items that can be just for them to keep. Our hope is that they would know that they are loved and cared for.
They Feel at Home
We want the children who receive our bags to feel they feel safe, valued and significant during this transition. Providing them with items such as a fleece blanket, flashlight and stuffed animal helps to ensure they feel comfortable during this traumatic time.
They Have Confidence
Children displaced from their homes and brought into foster care often feel very vulnerable and afraid. Our hope is that they feel they can be confident in themselves and their situation even when things around them might not be easy.
They Maintain A Healthy Lifestyle
Our bags provide children with items such as a toothbrush, toothpaste, hair brush and soap to help them maintain their basic hygiene habits. When a child is displaced from their home they might not think to grab these necessary items. We make sure they don't go without these basic necessities.