Faith Hope & Love Receives Grant from SC Johnson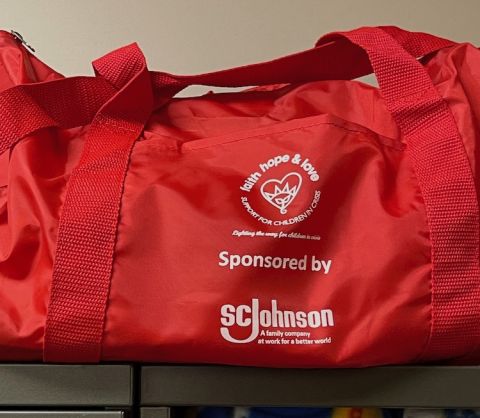 Funding will help to purchase 800 Duffels for Kids bags.
(RACINE, WI, June 30, 2022) Faith Hope & Love is pleased to announce it has received a grant from SC Johnson to support Duffels for Kids in Racine County.
The $7,500 grant from SC Johnson will be used to purchase 800 Duffels for Kids bags.
In 2013, we learned that children entering the foster care system were often pulled from dangerous situations with only 5 minutes to gather their things and they were given a black trash bag to collect their belongings. Our hearts broke over this news and we decided to help by supplying a brand-new duffel bag with personal care and comfort items.
In 2022, we have given away over 1,000 Duffels for Kids bags to different agencies. We work with many organizations that regularly deal with children in crisis, including first responders, domestic abuse shelters, homeless shelters, local schools, hospitals and foster care programs.
The contents of each bag are age-specific and go to children from newborn to seventeen years of age. 
Duffels For Kids include:
Duffel bag
Fleece blanket
Stuffed animal
Storybook
Flashlight
Hygiene items:  toothpaste, toothbrush, hairbrush, shampoo/conditioner and lotion (ages 3-17) deodorant (ages 10-17), baby wipes, powder, shampoo, wash, and lotion (ages 0-2)
OUR HOPE FOR THE CHILDREN WHEN THEY RECEIVE ONE OF OUR BAGS...
They Know They are Loved
It is important that the children who receive our bags feel comforted. We believe it is important for children to receive our bags with brand new items knowing it is now for them to keep. Our hope is that with these bags they would know they are loved and cared for.
They Feel at Home
We want the children who receive our bags to feel safe, valued and significant during this transition. Providing them with items such as a fleece blanket, flashlight and stuffed animal helps to ensure they feel comfortable during this traumatic time.
They Have Confidence
Children displaced from their homes often feel vulnerable and afraid. Our hope is that they are able to feel confident in themselves and their situation even when things around them may not be easy.
They Maintain a Healthy Lifestyle
Our bags provide children with items such as a toothbrush, toothpaste, hairbrush and soap to help them maintain basic hygiene habits. When a child is displaced from their home, many do not think to grab these necessary items. We make sure they donot go without these basic necessities.
Heather Lojeskithe Executive Director of Faith Hope & Love states "Through the support from SC Johnson, we are able to continue to supply Duffels for Kids, ensuring no child ever receives a black trash bag when displaced from their home for their personal belongings."
The 800 bags purchased with the grant funds, have already begun to roll out into the community. The first deliveries were to Children's Wisconsin – Racine Clinic and Aurora Medical Center – Burlington.
Since 2014, Faith Hope & Love has provided support to children in crisis through the Duffels for Kids, BlastPacks, New Beginnings, Back to School, Operation Christmas Cheer and Sensory for Kids programs. In 2022, Faith Hope & Love was awarded the 2022 BizX Best Nonprofit across 23 countries. Learn more about the organization's mission to continue to build Faith Hope & Love in the lives of children in crisis: fhlforkids.org.